Joined

Jan 22, 2015
Messages

743
Points

0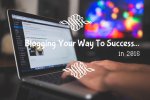 ​
Hey ladies & gents, today I'm going to share with you some tips about blogging for success in 2016. The people who'll find this tutorial valuable are mostly people who want to start a blog from scratch or have tried everything else but failed and want to start fresh.
Even someone who just want to diversify and expand their business will find this tutorial helpful as well. Let's get started...
Niche Selection
The first thing we're going to look at is niche selection before talking about anything else. But if you want more strategies about niche selection then check out this blog post:
https://www.webmastersun.com/entries/8-How-To-Find-a-Niche-Market-for-Your-Online-Business
The biggest mistake a lot of people make is to choose a niche then later after everything is built and ready to generate money they struggle to get traffic. So I would like to share a strategy that will help you avoid that.
One thing I see happening in music forums is that someone comes in the community because they just want to share their knowledge, learn and network. Next thing they're popular and helpful in the forum, next thing admin decides they should become moderator (lots of benefits).
Then later they write a post in the forum and it goes viral and to cut the story short, most of these people end up starting a successful blog or youtube channel because they already have a source of traffic.
So I thought to myself why are we always taught to build the business first then get the traffic after? Why not test the niche or market first then build a business after?
Right then it hit my mind, I could suddenly see how I can just go to highly active forums, facebook/google+ groups, reddit or any online discussion platform and test if I can become an authority or not. The great thing about targeting communities is that your target audience is already there so all you need is to convince them that you're an authority and getting them to check out your offers will be a lot easier.
Yes this is really time consuming especially when you're just getting started and you have to filter through a lot of crap to find a good highly active community with no spam. I would advise you to choose as many as possible because you won't be an authority in all discussion boards/groups.
I think this is a good strategy, it will save you a lot of trouble especially money, time and help you avoid starting a blog that doesn't generate traffic and profits.
Expired Domain
Once you've built your reputation and people like the stuff you share in the communities then instead of starting a blog with a new domain, buy an expired domain name instead. You'll get search engine traffic without a lot of hard work, sometimes even from day 1, which will never happen with a new domain.
You don't need a domain with special metrics, all you need here is a domain with a memorable or brandable name. Not to forget the most important thing,
BACKLINKS
! Make sure you get a domain with a good number of backlinks and it should still be indexed on google.
The main reason for you to get a domain that has backlinks is because you won't be blogging daily, which will make your link juice flow in as minimal pages as possible to help your posts rank well in search results.
Content Marketing Strategy
Don't post on your blog daily, this will ruin your rankings so blog only when necessary. If you have more content then I would advise you to look for some guest blogging opportunities instead of posting on your blog.
You can also post your content in the communities and groups you've joined but this time you'll be able to let the members know that they can find more on your blog then leave your link at the end of the post/article.
Use 80% of your content outside your blog as a marketing tool and a way to build more backlinks. Then post only 20% of the content you create on your blog, you should mainly use your website or blog as a monetization platform instead of a content hub.
Posting content on your site will require you to always keep sending members of the community to your site and the admins as well as other moderators won't like that but they won't have a problem if you keep posting valuable content on their platform and only putting a link at the end of the post.
Sharing your links to the community frequently will annoy the people who're working hard to keep people coming back to the community, that's why it's even expensive to advertise an external URL than an external URL on facebook for example.
Another great thing about keeping your content on the communities is that high traffic communities last for years and your content will get eye-balls and generate profits for years even when you're not marketing.
Another great thing is that most people who can make things go viral are mostly found on these communities. All you have to do is to make sure you're offering valuable content, no fluff.
Conclusion
My high traffic blogs get daily traffic from online communities I haven't even joined, some I can't even join because they're exclusive but they keep bringing me traffic. So imagine if they're bringing me traffic daily without me being there what would happen if I was part of the community and using the content strategy I just shared?
With this blogging strategy the possibilities are just endless, only your imagination can limit you. The best part is that you don't need to worry about traffic, which is the number one things that make a lot of bloggers quit or fail.
Hope this article will help you, even if you don't use my strategy exactly but hope it opened your mind to some new possibilities and gave you some fresh ideas on how you can improve your already existing blog.