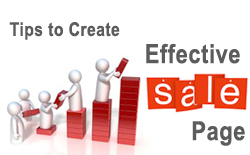 If you already owned sales web page or deciding to build new one, then you should move towards to see the post by Karl Staib, titled 10 Tips to Create a Sales Page that Converts Prospects to Customers. It tells out the techniques that worked well in Karle's sales pages. It is also the star of strategies that drives the current industry through best practices. For example, here I have mentioned the technique which many people look at and implement their sales pages. This strategy helps in attracting people towards online internet marketing and affiliate marketing.
Share Your Technique
Giving advice to people automatically increases the bonding between you and the folks. It is the best way to attract people and get in touch with them. If you help them, they automatically help you. This is the principle we are learnt during childhood. We should make use of that principle in our work. Usually we will not come to know the particular company's techniques which bring out differentiation among other companies. They will not give the details in an exhaustive manner. So the better option is hiring them. When you prove that you are self confident they are attracted towards you and you will become a center of attraction. Some people provide free product launch e-course when the people sign up for their news updates to satisfy their requirement. In every man at least a bit selfishness will be there. To fulfill their requirement they offer free product launch E-course to people. Any way people will be benefited 10-20%more money from launching of their own product. Those who offer free product launch courses will be having intention to keep the people on their list. Their intention is to create illusions on people who hire them that this is the small percentage of information he is providing them. If people hire them they can increase the sales to 30-50%. I will convey the people in advance that biggest wrong judgements that they can usually make on their sales page is free-of-charge. By this they might move towards their sale's page and correct these wrong judgements and working on them .Why I should think about these things?. Anyway I am not hired by anyone .If they hire me they will be surely benefited. I know my creativity and confidentiality. If they are willing to hire me then I will work for them to increase their conversion rate and also I will try my level best to save their money and time.
Conclusion
First, grab the people's trust and create illusion in them that you will help them at any time. Share your experiences and strategies which they think that they are worth to them. If they have benefited from your help later you will be benefited by them. The main thing here is just to try to attract people by gaining their trust. It can be possible by educating them and giving more information which are suitable for their work.