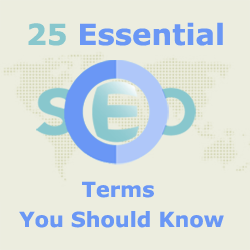 We can earn money online through our website or blog. In order to optimize our blog to get more traffic you need to know many things related to SEO terms. You should understand all those concepts clearly before starting work with blog or website. You should expose yourself to learn all those SEO concepts and terms. Here I specified more than 20 terms for those who are new to SEO. Those who already know SEO for them these terms are like recalling terms. So let us start one by one term.
1. Search Engine Marketing
Name itself only reveals that SEM involves the optimization of a webpage or an entire site. It involves marketing strategies to optimize the web page. It is basically divided into 2 classes, namely SEO and PPC. SEO stands for Search Engine Optimization and PPC stands for Pay per click. SEO optimizes the WebPages and it materializes the WebPages during searching for results. The main task of SEO is to increase the page view during searching. PPC Advertising is the method of buying clicks from search engines. It is an online advertising method which pays when each time when visitor click their advertise.
2. Backlink
It will be textlinks to your website from another websites. It is also called as in a link or simple link. It helps in linking to your page from another website. It also helps in increasing page rank of your website or blog.
3. Page Rank
It is used by Google to indicate the quality of your SEO work. It finds out the important pages around the web. It assigns numbers 0-10 for each web page on the internet. It assigns rank based on quality and number of links on that page. If your page contains more links, then it gives more weight age to your page.
4. Link bait
It helps in improving the page ranking. It is an activity of getting more back links for improving one's search ranking. In this Small piece of web content is published on blog or website. Web content can be video, picture or a quiz etc. The main goal of link bait is to attract as many back links possible for a page. This is a old link building method (using black hat SEO) so we have not been recommended to use this techniques.
5. Link farm
This helps in increasing search engine rankings. It is a collection of websites where every website links make movement towards every other websites. So that it manually increases page ranking. Today it not gives intended effect and people thinks that it is a spamming technique.
6. Anchor text
It gives us the information about what the link is about. It tells about the page which we are going to click. It totally gives the content of the website. If you have given rich keywords for anchor text then Google will bring together these words with content of your website.
7. No follow
It is normally used by website owners. This link to other pages that they don't want to endorse. This link does not pass SEO credit to another. When Google sees the no follow link, then it will come to know that they don't want to endorse websites they are linking to.
8. Link Sculpting
It helps in increasing search ranking of desired web pages. By using no follow link webmasters concentrate on increasing search rankings of pages which they want to improve in their websites.
9. Title tag
It is just the title of your website. It plays an important role in the search algorithm. It must be unique, special, and different and emphasize the main content of your website. ( Do you want to know about title tag? see what is a title tag on our webmaster forum)
10. Meta tags
Like title tag this also gives description about your website. This also tells out what is your website is about. It gives an idea of the content of your website. Usually they are placed inside the HEAD section of the page code. So it is not visible to users.
11. Search algorithm
It is the method used by Google to find the highest ranking pages on search engine. It determines which all pages will get higher ranking during search queries. It is dealing with many factors like Page Rank value, the title tag, the meta tags, the content of the website, the age of the domain and so on.
12. SERP
Search Engine Result Page. It is the pages that come up when you enter keywords on search engine. It gives many results based on a query. Based on ranking result pages will shows up on search engine.
13. Sandbox
It is a separate place for non indexed websites and newly discovered sites. Google will not give search results for those sites when their keywords are entered. When Google verifies that those sites are real and acceptable, then it shows up those sites on search engine
14. Keyword Density
It is also one of the important factors of SEO. Dividing the number of times that keyword is used by the total number of words in the page gives keyword density. Earlier search algorithms were giving more attention to this factor. But today there is no much attention for this factor.
15. Keyword Stuffing
It is the method of increasing keyword density on their websites. It is a kind of method which will try to expand the word count of the page. The thing is ,this method is not famous nowadays.
16. Cloaking
This is the method of giving a different look to the same web page on different search engines and human visitors. This is done by placing a keyword many times. This is a spamming technique in many search engines and you may be penalized for this.
17. Web Crawler
This is also called as a spider. It does work on behalf of Google. It is just a computer program which searches or index pages on the internet. It tries to discover new links and pages.
18. Duplicate Content
If the same content is observable in multiple pages, then it is called as duplicate content. Some people use same content in multiple page in order to gain hits. You will be penalized for using duplicate content. So keep away yourself from using duplicate content. ( Report that if you are going to using duplicate content then your can be decreased rankings, see Why duplicate content is bad? )
19. Canonical url
It is a desired URL for accessing the web page within your website. For example, the canonical version of our SEO Forum might be https://www.webmastersun.com instead of http://webmastersun.com.
20. Robots.txt
It is a text file which will be placed in the root of the website. It will tell web crawlers about the structure of the site. It will inform them that what will be the structure of site is.
21. Conversion Form
It is a form which gives information about your site visitor. Through this you can know about your site visitors.
22. CSS (Cascading Style Sheets)
Through CSS you can give a different look to your website. (Examples: headers, links).
23. Domain
It is the main web address of your website (example: www.webmastersun.com). It is well and favorable if you renew ownership domain for several years. Search engine rankings usually give preference to those websites which will have longer duration ownerships.
24. Social media
Today social Media like Twitter, Facebook or Google+ plays important role in increasing your website hits. If you spread your links on social media automatically your website hits will increase.
25. Traffic Rank
It helps in knowing how much your website is lagging behind when compared to other websites. Through this you can know the traffic on your websites comparing to all other sites on internet.
Conclusion
Above all features helps you in optimizing your website. They all are very cool features. Understand them properly and implement in your website to get good results. If you have any issues, don't hesitate to share your questions on our internet marketing forum.