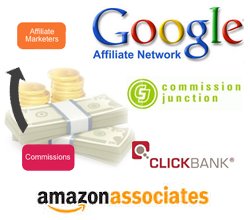 After learning about the model to use in order to earn money online, you must also have the intention and choice for yourself then, right? Due to my passion and love Internet Marketing, I have chosen the model of making money online through Affiliate Marketing to provide me with passive income.
What is Affiliate Marketing?
Understand simply: Affiliate marketing means that you'll introduce the product links and that you are representing the manufacturer to the customer. When he purchases through the referral link, you will gain commission.
Affiliate marketing optimization works better than traditional advertising methods because we can be paid commission only if the promotion and the products sold to consumers effective. This is actually a method of making money online effectively where all three factors: the manufacturer, the affiliate and customers make profit.
Should you venture into affiliate marketing for making money online?
Before you advertise any product, you should have personal experience using it before offering it to your users. In my opinion, sales mean your credibility. If you introduce good products to customers, the more your credibility will be confirmed on the market.
When the customer has used the product, he would know if the product you're offering is reliable or not. The affiliate marketing system is configured to operate in a fully automated way. When any customer clicks on your referral link, the system will record automatically, but that may depend on the vendor. They can save time prescribed cookies. During this time threshold if the customer exits and returns for the payment, you will still make the commission.
Benefits of Making Money with Affiliate Marketing
Make Money Online with Affiliate marketing offers great benefits such as:
– You do not need to invest in production.
– You do not need delivery and customer support.
– No cost premises, staff and warehouse.
– You do not need product advice or technical support more (This is made by the suppliers.)
– Commission to make money with digital products are quite high, from 30 % to 100 %
**The only thing you need to do is focus on introducing the products alone.
How to Make Money with Affiliate Marketing
1. You must look for vendor's offer for affiliate programs.
2. Sign up for an account on site number one. Depending on the rules of each site, there can be different forms of payment. After registering, you will be granted one link with your ID to know the number of providers and how much money you may earn from that link. They will pay under the section percentage commission stipulated in the terms and conditions.
The form of making money with affiliate marketing:
a. CPC (Cost per click )
It is a basic form of making money from affiliate marketing. For it, the publisher will receive a commission when customers visit the website and click the links to the homepage of the manufacturer. Commission rates will be calculated on the number of the clicks you get.
b. CPA (Cost Per Action)
For CPA, the publisher will receive a commission when customers make a request of the manufacturer such as filling out a form , email subscription or download goods.
c. CPS (Cost per sale )
Overall, this is a form of marketing and making money online today that is sustainable. Commissions are paid only when a transaction is completed (when the customer buys the product). This is profitable to both manufacturers and marketing participants. Thus CPS is currently dominant than the largest CPA and CPC.
How to Promote Affiliate Products
You can advertise your road links through websites, blogs, email, social networking and others venues. All they need to do is to click on the affiliate link and make payment. Finally, you will receive your commissions.
Wish you could make more money with affiliate marketing!