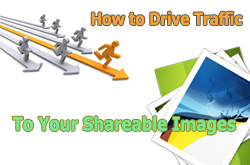 Are you sharing images daily on your social networks?
Do you want to drive traffic to them?
In this article I will show you important factors to increase engagement and drive traffic to your website through sharable images.
1. How image driving social engagement?
Visual images are driving engagement and attention across all social networks. Twitter, Pinterest, LinkedIn, and Instagram, all are showcasing their talent through images only. Brands that can optimize the power of images are always noticed. Let us discuss how to drive more traffic through images, what type of images to use on your blog and why it is necessary to include them in your marketing plan.
2. Give audience what they want
If you wanted to drive more traffic through visual content then it should directly appeal the targeted audience. It may be problem solving image or actionable image that has immense capability of holding audience attention. The next idea is to use "how-to" images. Don't forget to focus on quotes. Quotes are one of the most powerful styles to garner social engagement.
3. Be consistent and quick
You should update image at the same time almost daily. Regular update is the key of having successful blogger site. All successful social networks and blogger sites use the same tactics to come on the top.
4. Be unique and original
Anything that is different and original from crowd always makes a history. Create original images and share them in any way as you want. You should not use images available on Google as every blogger use the same images again and again. It reduces authenticity and trust of users. Especially focus on copyrighted images; they should not be used in any way.
5. Optimize size, branding and source
Size should be so much perfect that it could hold the quick users' attention. In case, it is too small or too large then it will be simply ignored by the readers. Size of image usually depends on platform where you will be posting your image.