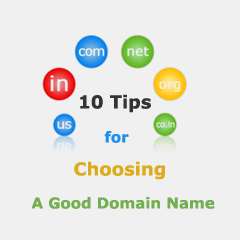 When you create new website, first thing to focus on is domain name. You can change blog layout, its content but changing domain name is a tedious task. You may lose potential readers and website traffic from your website. It is important to focus on characteristics of domain names before it is registered on particular server. I will show you 10 simple tips for choosing A Good Domain Name for your website
1. Your domain extension name matters
Extensions like .com, .org, .net are considered worth than others one. Try to get .com extensions as other may be considered as spam by the users. Com extension is popular and used by more webmasters when deciding to buy a domain name. I also advise you should use this extension before think about others.
2. Domain name should be catchy and easy to remember
Don't use typical domain name that is unusual or difficult to spell. It should be easy to remember by audience. A catchy domain helps you build your value brand easily and friendly with your visitors.
3. Short and meaningful
Domain name should be small and simple. For example – WebmasterSun.com is more meaningful and simple instead of using WebmasterSunDealsandServices.com as your domain name. User will definitely make mistake in spelling when typing long domain names.
4. Domain name should be branding itself
Your domain name should be consistent with your brand. It should be title for your business. It should be clear to users what you are trying to sell on your website through domain name only. Good domain name helps you in making your online presence professional and worth.
5. Double letters should be used wisely
Aalways use domain names wisely and it should be easy to spell. If you want people should find you quickly, then double letters should be incorporated more wisely and intelligently. Domain name should not be awkward to type out!
6. Hyphenated domain names should be avoided
Few people find that their desired domain name has already been purchased by other user. In that case, they get ready to buy hyphenated domain names. Actually, hyphenated domain names are awkward and difficult to spell out. Eventually, they switch to other website that is easy to remember and easy to spell out.
7. Descriptive domain names
Your domain name should be descriptive and it should be consistent with your brand name. Good domain name gives clear idea what your website is about and its services.
For examples, Webmaster Sun with webmaster word in its domain, consider using for webmasters or internet marketers or it also involve to an internet marketing forum.
8. Domain name optimization
Try to optimize the domain name with keywords. Include keywords in such way that it can boost up your overall search engine ranking and also drives more traffic to your website. Here you could take help from SEO experts to get an idea about popular keywords.
9. Awkward spellings should be avoided
There are few cases when users get confused between two words. Here he is definitely advised to use better names with easy spelling. Learn from the mistakes of existing websites and get a good domain name worth for your business.
10. Avoid numbering between domain names
Numbers should not be included between domain names as they are considered as spam by users. Instead of using numbers, it is bet idea to get simple and sweet domain names.
Summary
Remember that good domain name is "key to having successful website". You would be definitely overwhelmed by results when all characteristics of domain names are incorporated in intelligent way. Just make sure your domain name does not break any of these rules.