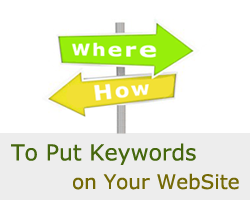 When talking about SEO, we will think about where to put keywords for SEO, the identification and selection of keywords for SEO standards is paramount. Well, There are some the Most Valuable Places for Keywords on Your Website and in this article will help you understand more about How to Put Keywords on Your Web Site.
1. Keywords in the title tag
This is one of the most important place to put keywords and you have to put the most important keywords in this tag. Because what is written inside the title then will be displayed on the google search results. Title tag should be short (from 50 to 60 charaters) and your keywords should be near the top of the line.
2. Keywords in webpage URL
Your SEO ranking for keywords on pages that you put keywords in URL will increase a lot when you have keywords in URL.
For example, in this URL https://www.webmastersun.com/forums/10-Search-Engine-Optimization, keyword "Search Engine Optimization" is the word you want to rank higher than competitors on Google Search or other search engines. You must remember that it's very important if you want to abtain good results on search engines.
3. keywords density
You need to check the keyword density. From 3 – 5% for the best with keyword you want to rank. 1-2% is less important. And you should avoid SEO keyword density on 10% because it looks like you are deliberately keyword stuffing instead of writing a naturalistic text.
4. keywords in anchor text
Keywords in anchor text is very important especially anchor text backlink, because if you have keyword in anchor text from another website, this is seen as getting a vote from that site for your site in quality and popular and SEO points.
5. Keywords in the heading tags (<H1>, <h2>)
This is where your important keywords should appear much. But you have to pay attention in your page must have content for this tag, each page should only have 1 main keyword in <H1> and 2 to 3 keywords in tag <h2>
6. Keywords in first phrase of paragraph
Keywords began early one piece is still highly effective on even though it is not as important keywords in the anchor text, or headings under title. You are not neccessary to have the same set of content, you can still put in the middle but note that you need to put in the first paragraph is better.
7. Keyword in alt tag
Google could not read images but it can read a description of the image that's Alt tags, so if you have pictures on the web you need to add keywords in tags <alt>. It will help a lot in ranking for your keywords.
8. Putting in meta tags (description, keywords)
Few important especially with google. Yahoo! and Bing still rely on this criterion, so if you optimize for Yahoo! or Bing, then should put for these tags.
9. Keyword phrase
Also need Seo keywords, you can optimize for keyword phrases that contain the keywords need for SEO. It is best to use common keywords suggested by google.
For example for the keyword "SEO Forum" you can use the popular phrase in their content as "quality SEO Forum" or "reputable SEO Forum" or "SEO Forum in New York city"…etc.
10. Too many keywords
When you optimize multiple keywords for a particular page is not relevant keywords. This will cause decreased performance for your keywords and even the major keywords also be affected.
Note that do not put keywords in the end of article.
Above is allocating 10 keywords tips for where you should to put them on when doing SEO for your website. And you should refer all further technical SEO, this is just a small part of that process only.