Administrator
Staff member
Joined

Jul 7, 2012
Messages

846
Points

63
An interesting study of the relationship between Google search results naturally (Organic Search, reference method results from SEO) and paid advertising (Paid / PPC, namely Adwords) Google Search: even top rankings naturally, then you can double click with the amount of paid advertising search channels.
PPC vs SEO SEO Google's study of the relationship between SEO & PPC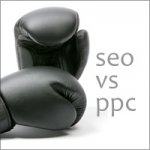 When scrutinized on natural search results (Organic) and paid search results (paid search) together how the search giant has come to a conclusion that ignores the paid ads 89% would reduce the amount of click - clearly much remains unexplored. What happens if your brand appears in the top natural search results for keywords? If natural search results appear on page two there is no change?
When released the first documents we have received many questions that require more detailed information around profits arising problems and how rational numbers depending on how many cases? "He David Chan - who led the study said.
So, Mr. Chan has set out plans to study more carefully the interaction between the natural search results and paid advertising on search engines, and today announced new study results.
Search results often do not naturally occur on the first page
89% figure is now more reasonable with the new results show that paid advertising on search engines do not appear together with the natural search results on average 81% of visits. Paid advertising (PPC) appears with search results on the top ranking naturally accounts for 9% of visits. Natural search results appear on rank 02 to 04 account for 5% of visits, and lower ranking (under 05) under 4% respectively.
Mr Chan said, though they do not compare with specific brand names general names, but the charts are very reliable for the brand name and general name for a certain number of cases. In other words, if a brand name, the organic results of the brand appears likely higher.
Even the # 1 ranking can also benefit from advertising
Surprisingly, even brand ranked first name, the brand that has increased an average of 50% of the click if paid advertising included.
Mr Chan said: "It was a surprising result, and I think in some ways, this goes against people's thinking, but the data proved that."
Survey shows that 82% of the ad click pay if the natural search results relevant ranking from 02 to 04, and 96% click on paid ads if the natural result of the brand is 5 or less.