Administrator
Staff member
Joined

Jul 7, 2012
Messages

846
Points

63
Recently, Google has had some changes to help us look at from different aspects and better understand issues related to SEO and search engines. Google usually updates every month more than 50 entries, but only 39 entries this month. However, there is too much for us to understand all.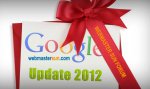 Below is a summary of the highlights after reading the Google blog spot.
A. Inorganic Backlinks & Penguin
There are two points of interest closely related to each other:
Renewal applications inorganic backlink identification. Google has algorithms to detect link scheme - a common spam technique. This change helps us to sign the appropriate use of Google's rankings.
Upon the new math - Google Penguin has been improved in order to improve the signs and identify new backlink data.
In fact, Google lists two separate points, implying, inorganic backlink does not really belong to Penguin update algorithm. So the first item mean? I think Google is implied by the signs of link spam detection / This scheme is applied "appropriate" in other parts of the ranking algorithm to detect the form of spam or other scheme. Italy expressed here are not clear, just as the update several months now. (I'm imagining the scene and search quality webspam he read this article and comments below and then chuckle about what we speculate.)
Automatically retrieve the page title
About a week ago, a friend sent me mail saying that Google has changed and edit the title page of his company website on the search results. I stated that Google is talking about it last January, but I have not noticed any change at all. Boy was I wrong.
In May, Google launched three new exchange point presentation related to the title page:
Change the title to HTML title in garbled. Google has algorithms presented the best title. This change suggested that the title brief, concise than if the current title is too long and were cut off. The new title is more concise and exact content as the original title.
Eliminate stereotypes content when creating titles in succession.
When presented on title searches, we avoid stereotyping content not accurately describe the page content, such as "Go Back". This change helps avoid text less relevant. The first point is the point you have mentioned. The page is titled contain two to three keywords have been modified, Google shows only the first phrase on the search results. With e-commerce site to sell products and services can be described in many ways, Google does not seem like that much the same keyword phrase appears on search results.
The new
You do not make new content and new results are important to Google or not u? I'm sure Google's monthly update (since November last year) are less or more to refresh the search results. Please remember that. Here are four points related to the changes announced today are:
Detect new events faster. This change helps Google renew search results with processing time only a few seconds after the event occurs.
Ranking function results new quieter operation.
With this change, the function will replace continuous landmarks identify new content. Detection find new content faster. This new classification change search new content faster.
Simplified algorithm innovation. This simplification helps us to understand the signs of more errors and editing.
In addition to the items mentioned above, there are some items related to the Google Autocomplete features include offering suggestions as Autocomplete "Related Searches" within the search results page, and reduce the "expected results guess poor quality "of Autocomplete.
Some items related to time and showing how to answer, such as displaying the answer that way more often.
And the "Going into the hacked page" is the first item on the list it said, the warning on page internal hack can be dangerous, not just wait until it appears on the home page URL link search results. Recently, Google updated Panda 3.7, your website has changed?