I build simple, easy to run & maintain websites made for newbies so they have everything they need to succeed online. Includes:
- Full Ecommerce Site in Evergreen Niche
- Paypal Integrated
- Includes Domain
- Includes Hosting
- Includes SSL
- Includes My Personal Guidance
- Full Support
- Money Back Guarantee
- Even More Money Made Through Passive Affiliation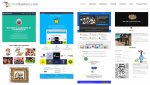 You get EVERYTHING you need to start making money online. No BS. No hassles. No learning curve. I will tell you how to make money online and you WILL make money online. Simple.
See the turnkey starter websites currently available at
SiteDonkey.com
(SiteDonkey.com)
To Your Success!