Joined

Mar 5, 2013
Messages

397
Points

0
When I search on google and getting search results, Google sometimes show additional links for the links of that website.
For example, if I
search for WebmasterSun
, webmastersun.com is the first search results. As picture belows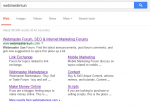 In addition to a link to WebmasterSun.com, Link Exchange, Mobile Marketing, Webmaster Marketplace, Content, Make Money Online, Scripts site links are included under the result.
In real time, my first result on Google and
search for webdesign
then returns a single link to the wikipedia.org entry for webdesign keyword, not webdesign website.
My questions is what should I do to get the "extended" Google search result listing or how to Get Google Sitelinks like webmastersun?