Joined

Feb 22, 2013
Messages

302
Points

0
How to Find the Best Keywords For Your Website
Step 1: Understand your products or services
Please ask questions such as: selling your Website? Who is your target customer? Products / Services solve your customer's problems?
Think and write down the answer, save the key phrases.
Step 2: Understand what your customers need?
You find yourself Who are your target customers? They will buy anything, use your services? The question, What is their complaint? What they like and fear? Predict when seeking help your product or service they will find keywords?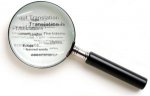 Step 3: Use the keyword tool to find
How to find: you check on Google about these tools, create an account on the website, and type in the keyword you want to search. These tools will provide a list of keywords. You can record or save the Excel file.
Paid tools:
Wordtracker, Keyword Discovery, Keyword Analytics, you use keywords Vietnamese, but it does not achieve high efficiency, and it is also quite expensive.
Free tools:
Google External Keyword Tool - This is a free and strong. However, google only tells us the number of search predicted rather than actual data. Use Google External Keywordtool is or that you will find related keywords and keyword competitor websites. Google listed best for you, you only need to download one excel file to edit.
SEO software:
There are a number of software allows you to search for keywords and check the keywords of competitors such as SEO Elite 4 SEO Studio. You can find online at the trial to trial, the crack of the older version, if you want to use it regularly. The software includes video support so I did not mention here.
Ask your friends:
This is a very effective way. You know about your product or service do you only focus on a number of keywords that we forget the people who know less will look like. Ask friends and people who know less than you about our products, your services, if they find these keywords.
Refer to the website of TOP:
Let's see your keywords TOP 3 first website to choose the right keywords for you. 60-80% of customers in the first three sites. Following them can be a not bad choice.
Suggestion Search Google Toolbar:
You may have noticed when we MTI a keyword on Google, many people find keywords and latest search will be asked to find. If you pay attention you can see quite a lot of long keyword phrases into google search support.
Use Google Analytics to choose keywords:
Google offers GA allows us to be able to check the source client to access the website at the same time allows us to know our customers look to the website using keywords. Here you take a look at google analytics to know the keywords that customers to find your site. (Use this option if your site already run one time, if the new site, of course, no one has access to through Google).