Joined

Jul 5, 2012
Messages

7
Points

0
This is the fifth in a series of several ways to find hot niche Niche Marketing team.
You know to Clickbank and then you can find products in clickbank affiliate and advertising to join cao.Neu you sell, you will receive commission
When you accidentally
http://www.clickbank.com/marketplace.htm
, there are many products and you will be very hard to choose a product with which to affiliate to carry ho.Nhung suggestions below will help you do.Day part is one way to find niche market
When you conduct a search by keywords (your area) or by category, you'll see the same the following: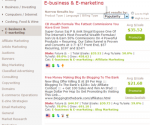 Maybe you will choose the products with high commissions (75% for example) but this can not be selected by these products can be very difficult ban.Vi reasons, you skip the selection products based on factors rose slightly.
As mentioned a number of factors at clickbank, you might want to check parameters Grav. and% refd
Choose your product has 2 parameters is higher because
% Refd
Except for new products posted at clickbank, then this parameter will be low, this number tells you what percentage of total sales generated by this affiliates.So more and more people proved successful earn money from this product.
Grav.
Similar to above, new products, it seems that this parameter is not high, this number will show you how many affiliates were successful sale (at least 1) for 12 weeks qua.Thong The higher the number the product proved have the most interest and purchase.
In summary, to search for a product that you have the potential to advertise, based on two factors Grav and% refd as outlined cap.Phan commission is not very important if the hard ban.Gia of the product you were a little concerned, but if all other factors are very difficult to notice you choose.
hope that you will find a product like that to continue to build websites to get profit