Joined

Jul 1, 2012
Messages

189
Points

0
What is Keyword Planner
Simple way to understand about keyword planner, it is a Tool to research keywords , Keyword Planner do everything that last version google keyword tool did , but with new google keyword planner (GKP) arrange and giving it more intelligent features that its predecessor did not have. So you do not worry if you have previously used to using keyword tools.
New features of Keyword Planner
- Arrange the group keyword suggestions
- Targeting clot test searches by city.
- Sorting and filtering conditions CPC, searches .
- Negative Keywords
- Simulation and prediction turns clicks, CPC cost for each keyword and group
Keyword Planner is very helpful in SEO, why do we need to use them.
The planning engine keywords , will let you know the extent of related keywords and predicted growth rates search , in addition to the competition you define SEO targets . How SEO is like a normal job , you have to have a goal , and the keyword here is your goal. Imagine you have hundreds of different keywords that you listed. So how can you choose the best target , consistent with the needs , conditions and your ability to compete . Google Keyword Planner provided to help you solve this problem , it also helps you to plan and predict the development of key words , as well as identify competitive seo service or Google Adword
Manual
As part of the service package of Google features Adwrods you need one Gmail address to use .
Step 1
: Log into Google Adwords
https://adwords.google.com/
Use your Gmail to log into the system , after that you need to create a new adwords account and go to
https://adwords.google.com/ko/KeywordPlanner/Home
to start using.
Step 2
: Click on the "Tools and Analysis" option, to "Keyword Planner"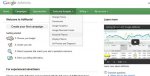 Step 3
: At the interface of the planning tool keyword, click on " Search for keyword and ad group ideas"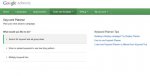 Step 4
: At the interface " to find keyword ideas " you should enter from the test . and choose elements to suit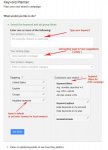 Notes for targeting section
Search target position : In this section you need to choose the right, if you choose SEO in USA, United States, with its new features as mentioned above is checked keyword placement city , you can be checked in the area of New York, Florida, Texas..etc..by clicking and filling the city's names.
Most Filters : As its name implies , you can give it the conditions or CPC rate each display relevant ads .
CPC is the cost to advertise with google adwords keywords google give you that reference, words have a high CPC , the level of competition is usually more difficult and SEO.
The negative keyword : Eliminate the words that you do not want to google statistics , the group will be deleted from the suggestion if the word appears .
Step 5
: Click on "Search" and see the results .
Enter your keywords and website , you can enter multiple keywords at the same time and they separated by a comma ", " . I tried to enter the keyword :
SEO forum
,
internet marketing forum
and webmater forum . In the " Target " and " Customize your search " option , you can aim to match your purposes . You do not know the custom here, you can leave the default .
Keyword Planner allows you to search with 3 types
- Search [ exact ] (default ) : find the exact keywords you test
- Search ( extended ) : Contain your keywords. For example : webmaster sun then expanding to best
webmaster forum
"
- Search for "word" : There are key phrases in it. Example:"internet marketing forum"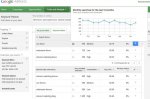 Tip
: If you have multiple tags , click on the box to save the downloaded CSV or Excel file formats from which you can see in the table all the tag information .
Conclusion:
To build effective campaign for keyword analysis and bringing profit for your website, you need to use more keyword tools but I suggest you, Keyword planner is the best tool at this time, it's free and one of products come from Google. High appreciated and strong recommendations!!
Hope this article will be helpful to you and don't forget share your thoughys about Google Keyword Planner :victory:
Last edited: