Joined

Jun 1, 2014
Messages

51
Points

0
Hi Community, im trying something new, the Website is simple and is built on top of [URLnf="http://gbackslash.com/"]G\ Library[/URLnf] and [URLnf="http://peafowl.co/"]Peafowl[/URLnf] framework.

upMy.pics comes with a gorgeous responsive user interface with an awesome uploader, an astonishing content manager and a system that you will fall in love by its gorgeous look and feel.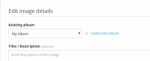 Users can create albums and set the privacy of them any time. Private albums and its content will be only visible to the content owner so no one else can view private content.
Albums features thumbnail navigation, image manager, sharing and more.

For now this is a just a Beta phase of this project, maybe in future i will provide Pay per View benefit to few active members to provide them some $$$ with their uploaded images, for which they can be paid out, so stay tuned folks, i will update this thread with new update news..
Try [URLnf="http://www.upmy.pics/"]http://www.upmy.pics/[/URLnf] and be amazed.
Last edited by a moderator: