Joined

Jul 10, 2012
Messages

338
Points

28
Internet is changing and growing stronger every day, and marketing on the internet is also increasingly demonstrated its effectiveness. But to make one internet marketing campaign is not easy, many people will ask not know where to start and how to do???
Perform one marketing campaigns carried out as well as we do one traditional marketing campaigns, there are other affordable Internet environment is made, therefore, one of the changes such as market research, advertising, marketing channel selection ...
Tree model internet marketing is quite famous here's one model shows quite clearly the work making first campaign internet marketing and looking at it we can easily identify where you will have to start from: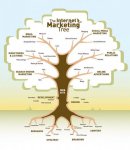 Looking through the tree model internet marketing we can clearly see the process of building the internet markeing strategy include:
Research
(research, market analysis, competitors, etc.)
Strategy
(Building strategic objectives)
Branding
(brand positioning, media messages, etc.)
Content
(content products, services ...)
Website
(Build host channel development, the face ...)
Selecting the appropriate internet marketing channels:
Search Engine Marketing (SEM = SEO + PCC):
Is a form of search engine marketing such as SEO (Search Engine Optimization)
: search engine optimization,
PPC (Pay per click)
: Ads pay-per-click.
Online Advertising:
Online advertising through the Display Network websites, blogs, ...
Directory & Listings:
Marketing through the contacts web page, book mark, the product evaluation ...
Public Relations (PR):
Community relations through the posts have any comments, feedback, article high trust from the experts, celebrities
Email Marketing:
Effective use email as a marketing channel to customers
Social Media Marketing:
Viral marketing, sharing via social networks, blogs