Joined

Jun 6, 2012
Messages

1,844
Points

0
The role of packaging is becoming increasingly more important in building a strong brand and consistent. Packaging not only protects, description and introduction of products, but it also contains a lot of factors that affect customers and determining their purchasing choice. To always be the number one choice of customers before the competition, what are the key elements in building the success factors in the design of the packaging?
Based on the factors that affect customers when choosing and comparing the same type of product we refer to the eight basic factors in choosing a beautiful packaging design, which are:
1. Consistent coordination
This standard is the core of a successful packaging. The collaboration is to demonstrate a consistent style of brand products. Color, texture, wallpaper is the factors that help to identify the brand image several times faster, and can help customers remember the special nature of the product, even though they can buy in many different stores. A product that can change the color of packaging in stages to make it attractive, but it must comply with the principle of consistency in brand identity products.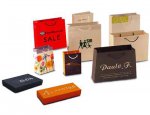 2. Impressive
As a gift to someone, the gift has to show respect for the recipient. A beautiful gift wrapped and cared first and foremost cause is a good first impression for the recipient, even if do not know how gift inside. Packaging of the product as well, how to design and packing also can be part of the product inside the packaging. As impressive is especially meaningful to the premium packaging for luxury products. The design of packaging for expensive items require a choice from engineering design to color materials., Through which can be "level" of the buyer.

3. Featured
On a display shelf not only our products but also other products of the same type of competition. So striking is a very important factor to make a difference. Product designers have to understand that consumers will be compared, identified with a series of products with a lot of diverse styles and colors. And to be able to be competitive, designers how their products will be a highlight among a variety of other products. To do this requires that manufacturers have researched the market from product positioning first step to building an effective brand identity system. Highly creative packaging design also helps avoid the familiar path to the boredom of the packaging market.
4. Attractive
In some sectors, especially in the cosmetics industry, the packaging must be attractive, inviting, cozy and emphasize the characteristics of the product. Packaging in this sector can be viewed as part of the products create added value for customers. Our products are designed for men packaging must indicate the masculine, unlike products for women with sexy soft lines.
5. Versatility
Packaging usually people only think about and use the finished product containers and left, very wasteful. So the competition today it is common to find ways to add value to use for packaging. These seemingly small details will sometimes be a major competitive advantage of the product compared to other competitors. Shower gel packaging today is often more a convenient hook to hang in the bathroom, tapered shape to be easily grasped. Cap of Comfort fabric softener bottle is more functional measuring the amount of use. Candy tin box very luxurious and finish can be used as a flexible container tinh.Tat all these things help products become more common and more relevant in the daily lives of consumers.
6. Protection
Already packaging, always have protection from product inside. But not without the packaging did not see this important function. Packaging design must be how to protect the product in a safe way. It is preferred to use vacuum sealed container or to allow for the product to be longer. Packaging for food and beverages must meet the required standards to ensure product quality.
7. Perfect
This factor makes the designer product packaging in accordance with its internal and conditions of use that product. Packaging must be suitable for hanging or on display on store shelves, can be easily placed in the carton box. Packaging for food have to be in the fridge fit and does not take up space .. Pens for children to be different from writing for adults. To clamp on the other shirt with pen kept in pairs. Many factors that interested customers need to be considered by designers meticulously to create a perfect packing to avoid all cons unnecessary. Will have the choice to emphasize point between the convenience, or the most prominent to create the finished product.
8. Feel through the senses
A good packaging to attract the consumer feel good by looking at the product, scrutiny and touch the product. We often pay little attention to the touch of consumers which usually emphasis on eye-catching elements. But touch plays an important role in the perception of size, product structure, materials, packaging and thus affect the product quality review. We can not ignore some elements of these factors because it will lose a considerable advantage compared to competitors. The application of these factors also requires understanding of engineering and customer needs towards. Identify what are the needs and wants of consumers for products and on product packaging makes oriented and designed to be faster and more efficient.