Joined

Jun 6, 2012
Messages

1,844
Points

0
Color plays an important role in stimulating customers to the brand's image. Moreover, the main color of the brand will constantly appear in advertisements, logos, product packaging business ...
Meaning color psychology vary by culture, context, industry. But in the advertising industry's leading economies the United States, the following basic principles: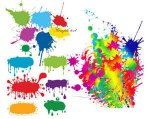 Blue -green of sea. Calls to mind the immense natural. Create a feeling of reliability, safety and peace. Thus, financial firms often choose to use the dominant color is blue.
Red. Pituitary stimulation, increased heart rate, increased respiration. So impressive red, passion, attracting attention, full of energy. Asia, red is the color of good luck. But for the West, red is marked dangerous debt. So, it is picky items.
Green. Prompts feeling healthy, fresh, serene. Green has different meanings depending on the degree of lightness or darkness. Dark blue associated with the property and prestige, while light blue brings peace of mind.
Gold. In most societies, gold is the sun, suggesting the positive, optimistic, warm light. So easy to stimulate creative ideas and energy supplementation. Human eyes to recognize bright yellow before any other color, so the booth and sell their products often choose yellow to attract customers quickly.
Purple. Red is a blend of green and tender passion, should evoke mystery, sophistication, spirituality, nobility. West was fond of using Royal Purple. However, purple suggests love, kindness, our nostalgia.
Red. Dark pink, red energetic, young, humor, energetically. Often used for young fashion products at affordable prices. Pale pink soft erotic love. Pink to create a romantic atmosphere.
Yellow. Humor, open-minded, full of life. Thanks to a strong red to coordinate with cheerful yellow, orange suggests collective life, the crowded, luxuriant, bustling and naive. Orange is often used more for the health care center, beauty salon, restaurant
Brown. Soil color: rustic, sustainable, long-term stability. Brown hair color to land may cover stains. So this is a perfect choice for construction companies and heavy industry.
Black. Seriously, strong, powerful and classic. Black to create the subtle, dramatic, appropriate for the expensive product.
White. Bright, clean, pure and simple. Typically, white comes health care products, baby products.