Joined

Sep 28, 2012
Messages

371
Points

43
Dear WebMasterSun members,
I have received private messages from members on this forum, told me they have not known how to post their signature on WebMasterSun.com
So I write a simple post to guide you how to add and show your signature on this forum.
Firstly, you need to have 20 posts to activate signature function on your profile as following images
Go to your profile page [URLnf="https://www.webmastersun.com/usercp.php"]https://www.webmastersun.com/usercp.php[/URLnf]
Click on Edit Signature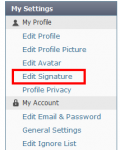 Add your desired signature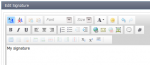 After added content in your signature in the profile page, go to a thread that you want to show your signature, click on
Go Advanced
at
Quick Reply
box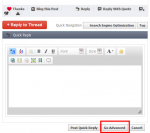 Scroll down
Additional Options
as image below, tick on
Show your signature
and make a Reply on thread you chose.

All done,
Hope that helps!