Joined

Sep 17, 2021
Messages

3
Points

3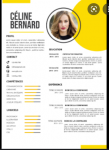 Are you a student or university graduate and don't have any professional experience before and wants to get a job or professional training in a company?


Are you an expert person and want to organize your information and experiences professionally, organized, and eye-catching manner?

So, you are in the right place, dear brother/sister.
With you, Anis is a petroleum engineer, specialist, and an expert for more than two years in management, more precisely in the Human Resources Department specialized in hiring new workers.
Unfortunately, many job applicants are rejected because of their poor or unorganized resumes, making the specialist review them reject them in less than five seconds.
And for this, I decided, God willing, to share a set of tips and designs for CVs in a modern way, in the required European way, and organize the information and make it smooth and excite everyone who reads it. It is coordinated and compatible with the ATS program that most companies use in recruitment.
I offer you a professional CV-making service at a very reasonable price due to the quality provided. I am ready to offer a refund to the buyer if he is not satisfied with the work.
Who are interested please send me a pm so I can contact you.
Thank you for reading and trusting, and you are welcome anytime.