Joined

Jul 1, 2012
Messages

189
Points

0
Google Trends is a useful tool in routine statistics, search trends using Google Search users worldwide.
You access Google Trends at
http://www.google.com/trends
Main functions of Google Trends
With Google Trends you can track the increase or decreasing of the search indexes for each keyword on Google search. Support quantify search by: Country, city, language, time machines. Also you can compare keywords together
if you were to compare, analyze two or more keywords, the Google Trends tool will be useful for you to do that.
For example I tried to compare 2 keywords
webmaster forum
and
seo forum
as following picture below

100 hot topics
Google Trends also help you get more information about the list of 100 popular search topics of the day (Hot Trends).
Then type one or more keywords research. I typed
internet marketing forum
and click on search icon

Featured areas on Google Trends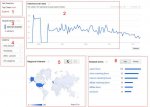 1. Two main functions of google trends
- Discover trends
- The most popular search: hot search list
2. Chart keyword search by month, week
3. List of keywords, you can enter them
4. Limit: the exact conditions filter
- Search the web: web, news, images, products
- Worldwide: you can limit the country you want to find
- 2004 - present: you choose the time necessary to study
- All categories: you can select the category you want to search or default
5. Graph search by location
6. Hint phrases more relevant search
Hope it's helpful to you and don't forget to explore your keywords on Google Trends. Let compare and finding best keywords for you. Good luck.!!