Administrator
Staff member
Joined

Jul 7, 2012
Messages

846
Points

63
There are many website traffic everyone wants, but to get visitors to stay longer on the website do not have to do a successful website.
A website receives 1000 000 visits a month will not mean anything if all access to and away in the blink of an eye, do not bother to explore your website has what. Retain visitors is as important as getting your large amount of access to appear in the first position.
Here are seven ways that you can apply to your website.
1. Ensure relevant website content for targeted keywords
When users use search engines to certain keyword phrases and your website appears, make sure the content of the article has not information the user needs to heart. Related content keyword in the title and article metadescription.
Will not mean anything if you appear in the first position, with the keyword "website design company" but someone on your website to see signboards design services, pano, printing ...
Users will immediately exit your website as just hit the rubber on the wall when they did not find the necessary information.
This is the reason why you should only use a targeted keywords on each page or post on the website.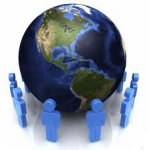 2. Avoid placing a link to another website on the homepage.
The links on the home page is usually quite attractive and to make visitors click on to find out. Therefore if if you have to link out to other websites, the rate of leaving the website is very high.
This is the cause of increasing the rates of Bounce rate (exit rate) means the search engines rank websites are affected.
Typically sites that use affiliate marketing programs (affiliate) often want to increase the click rate to earn money to or placed at the top of the home page, instead of it or a link to an article on the website about products and services Service that you do affiliate program to help readers dig a little deeper and staying longer available. And increase the likelihood that person will visit the website again
3. Use relevant internal links
Today would like to emphasize the important role of internal links for SEO. Users do not have much time and they have much to choose between many websites therefore make tons of places associated with the topic topics are reader will retain them longer.
Retaining visitors longer will increase the likelihood that they will be your customers so please always provide relevant articles and videos in an article.
On the website you can use the wordpress plugin available yet or write additional functionality such as related articles, the articles are most interested will increase the time of rest visistor.
cell-bounce-rate
4. Encouraging comments.
If you make someone leave a comment or poll, you will always retain the right people around her website.
This is the power of the forums, where people easily leave a comment, interact with each exchange.
You do not need to set up a simple website forums that use the principles of the forum apply: or writing topics have questions to encourage readers to interact, comment frame is simple to operate, open Enlarge add your comment functions using social networks like facebook, google+.
5. Writing articles with interesting style
Even if the topic you chose to block enforcement would your job is to make it exciting.
You can use image phase, Narrative a heroic lead Jaunty error help readers can both read just entertainment. Written on the subject boring a fun way will help visistor back more.
6. Make sure the content easy to understand, easy to follow
There's nothing worse than if you try to explain a problem and finally concluded it was even more confusing.
Of thinking or writing with a simple clear for the reader to easily grasp the problem. Internal arrangements reasonable link to the reader to explore every corner of the website as this will keep their legs are longer
7. Using video, text
Readers can browse the articles within 20 seconds, but if you transfer the content to 1 5-minute video, the Governor appointed 5 minutes to watch.
Besides, you can convert the content into infographic share to SlideShare and embed into your website. But this text format easy to keep your readers longer on the website.
Here are 7 ways you can apply to increase the of visistor time on site and reduce bounce rate. If you have a better way can leave comments to share.