Administrator
Staff member
Joined

Jul 7, 2012
Messages

848
Points

63
1. Research competitors on Youtube
These links, activities, sharing of community / social network a lot of influence on determining search engine rankings video. It includes: Ratings, Favorites, Playlists, Comments, Honors, Views, Embedding, Response Videos, and Linking.
Most simply go to see 1 video page opponents, see tab "Statistics & Data" and factor analysis to identify the factors, the need to develop and pass through them.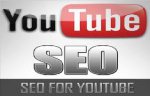 2. Video size
Do not focus on widescreen! Although existing Youtube video publishing features support the wide mode: 16:9, but you still should be in the form of 4:3 because the standard 4:3 format is the goal of the search engine and switch changed.
3. Description field
The anchor description maximum length 27 characters
Contains one URL in the first line of the description tag.
4. Video Image:
As the images as thumbnails (1/4, ½ or ¾) show related videos.
5. Share, spread
Comment on the video viewer and link on his video channel.
Create one relevant videos, similar to the video many people see but do not copy the title, description .. to appear as one related video.
6. Link Building
YouTube use "nofollow" to all video titles ... except the video under "Recent Activity". If possible you should try to always need seo in this video. Length of anchor text links in this section is 27 characters.
Building links to the video on youtube from the website (on-page seo) and link to the video channel also enables more effective video marketing.
7. Monitoring and evaluation
Insight test for statistical analysis:
Source view. (Source view may come from related videos, search on Youtube, Google Search, embedded video, or external links.)
View demographic information. (The age range and sex)
View time video
The site linked to your video
Geographical view. (Video at the local, regional, national or are the most popular.)
Chart statistics to adjust your video views.
8. Optimize website to embed the video on youtube
Embedding YouTube videos on your website not only saves on storage costs, NMa you can get from YouTube free tracking statistics. Here is one of the optimal ways to embed youtube video into your website:
Create a separate page optimized for each video on your website.
Surround the video with a description and link to your YouTube page with a density of the keywords you want to rank.