Joined

Sep 28, 2012
Messages

370
Points

43
Nowadays, Email Marketing is an indispensable tool for businesses because of the benefits it offers such as:
1 - Fast.
2 - Interaction strength (images, video, links in email content)
3 - Save.
4 - Track the results of your mailing campaign.
However, according to our research, the end result that businesses receive every email marketing campaign in recent times is really not high. So, what are the causes.
Please read this document to review and apply to your business.
This document lists the tasks you should perform for an Email Marketing campaign to bring the most effective:
1
- Make the list of target customers quality. Note the list must have sufficient information is really valuable.
2
- To classify each customer from the beginning to the deployment of your Email Marketing campaign will transmit the message to the right audience. Can not use an email to all content objects, and if you do so, open the message and read the result was poor.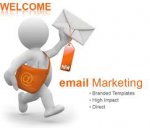 3 - When deploying email marketing campaigns must have a good script.
- Must have a specific goal.
- Frequency is how many days a mailing sent once. (The entire campaign how many Mail)
- Content must have the following script before. Ie Mail First you write something, and then the next second Mail you will write something ... not the Mail are the same. If the customer has read the first Mail and interact with you, you will send the message next to them.
4 - Choose the right time to send mail
- Depending on the object to receive messages you should write to them at any hour of the day is most suitable.
5 - Email Content is King.
- Email content must comply with the principle of 80/20 ie 5 email sent to customers, the have 4 email content to share knowledge, or hot news for the remaining 1 Mail should tell you What solutions can help them (Mail offers)
- The email must present simple but enough, enough for four, if you use the image, do not use too large. In the email you should not put too many links. Just put the link is important.
- When presenting the content you not so rampant write that every line should only write 10 to 15 as appropriate.
- The content should be directed to the reader, not for you, you should not introduce much about ads that speak to the customer's problem may have been, are, or will encounter, you empathize with them and eventually you will come up with solutions to help them.
- When talking about your product or service, you should focus on the benefits, which is the solution to solve customer problems are encountered. Benefits as clear and as specific as possible. Do not generalize the best or most savings should say how good is it, and how much specific savings or how much compared to the old solution or the other.
- Office of address in the email must be friendly and personalized just like you and they (mail recipients) sat down to discuss a solution to any of them.
- Stimulate act now while reading email. For example, "Visit our website now for ... or to register button image in the email ..."
6 - Subject is Miss
- A beautiful girl, that prison, even if the presence of any public place any more people to notice and care. A title for an email today is very important because people are tired of receiving too many emails daily, they were lazy marketing read mail of strangers. A catchy headline will make Mail open higher rate. So when you write your headline must comply with the following principles:
+ Short, concise.
+ Talk to the solution, such as: How do you make 01 million a day? Or: Why Email Marketing is not effective?
7 - Must have appropriate solutions to send an Email.
- Free solution as Gmail, Yahhoo mail, Hotmail or mail.com ...
- Pay as Madmimi Development, vinacontact, ...
Solution fee will have many benefits as you can always track all your customers, wherever you may know is mailed them many times what the contents and they opened How many letters as they visit your website ... The next benefit is to help you save a lot of time - Whether you have sent hundreds of thousands of letters, they are only a few operations are finished.
8 - Monitor and review the results of each campaign
- Track who opened the mail
- Subscribe to anyone visiting the website
- Track who has contact with you
- Track your contact anyone after they open Mail and visit the website
- Track who do not open Mail to send them again
- Monitoring those who never open your Mail for you to find the cause and can continue to communicate with them.
9 - Interacting with customers
who open the mail and read your mail. When you have the opportunity and reason for you to contact your target customers is absolutely not hesitate to
contact us immediately.
If you call back soon for them when they open the email or just visit your website, they will have a good impression about you. You should share with them on solutions rather than offering them to buy it would be better.