Grab this FREE Master Class to receive
5000 Fans in 48 Hours
Even if no one knows your name...yet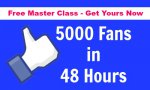 If you have ever tried to get fans on a Facebook page before then you know how hair pulling, eye bulging, migraine inducing it can be.

The people at Facebook make it sound so simple in their little cutesy instructions... Create a page, Invite your friends and make profits

BUT..........

In reality, you invite every Facebook friend you have, load your page with great content, add a few links where people can make purchases and you get a big fat zilch!

Am I right?

Facebook hits you up to buy stupidly expensive ads before they even let the handful of fans you have even see your content.
The truth is Facebook won't send your content out to your fans till you have a huge audience, tons of likes and comments but you can't get likes and comments till you have a huge fan base. It is a no win situation and Facebook is holding all the cards.
But I added 15k Fans to a Page for only a penny a piece and I'm going to show you how to do it too.
5k Fans In 48 Hours
There are 3 videos that walk you step by step thru the process in a live case study
​
Video #1 - How to create the perfect pic and text to suck in fans like a hoover without sending out an FB invite to anyone
Video #2 - 24 hours after completing task from video 1 we will perform 2 simple twists to cut out the low lying fruit fans and target your perfect audience
Video #3 - Now that you are loaded with fans you will discover 5 different techniques to market your products to them.