Get High Authority Editorial Links For Your Website on Huffington Post, Buzzfeed, Examiner and Many More!
We are an established SEO firm (impros.co.uk) and now our High Authority Editorial Links service is open to public.
We have listed the High Authority sites below on which we can get your articles published along with your website's link. You dont need to send us your own content. These top websites have their own team of editors and they are responsible for the writing of content. You will just need to give us your website URL and the keyword you want to use.
Why Bother These Links?
Well you already know the answer. The links coming to your website from very high authority blogs (DA 90+) will let Google know that your website is trustworthy and it will be ranked high in SERPs. Your website's authority will automatically increase this way.
You can easily rank for even the most competitive niches and keywords with these links.
List of High Authority Websites
Following is the list of websites on which we can get you a link. The Domain Authority of these sites and the price of link is also stated.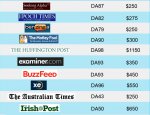 Why Purchase Links From Us?
The first and the foremost reason for purchasing a link from us is that we always deliver on time. We wont make any lame excuses and we always provide you with the link way before the deadline.
Our rates are the lowest in the market. You can compare our rates with any of the high authority link providers.
The links we get for your website never get deleted. Not even once. But if by any chance the link gets deleted, we will give you another link on the same website free of cost.
Payment Terms:
We accept payments via Paypal.
After your website is accepted for a link, we will send you an invoice of 50% of the total payment for the link. You will have to pay 50% upfront and the rest 50% upon the publication of the article with your link.
Additional Information
We do not accept porn and gambling websites.
We dont accept content from customers. The editors of the websites generate their own content and put your link in it.
We will provide REFUND only if we are not able to deliver the order within the timeframe described. We usually deliver between 7 to 10 days.
We will soon cover more high authority websites.
To order an editorial link, PM us or send us an email at
[email protected]
If you have more than 1 order, we can negotiate the price.
SPECIAL OFFER FOR ESTABLISHED MEMBERS
We are giving away 3x review copies at a 20% discount. So hurry up and grab this opportunity.