Joined

Jul 5, 2012
Messages

232
Points

0
There are hundreds of thousands of professional graphic designers around the world with their own innovative way. However, they all possess a certain skill below.
Personal Style
To become a professional graphic designer is well known and create a unique product, you need to have the personality and express creativity. If you have already created and resonate with distinct personalities, customers sometimes do not even need to look at the signature also know that it was your work and they will find you when you need it.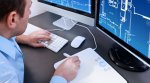 Interested in the small details
You should start interested in the details on a poster or anything with graphics / words design, even the smallest details such as font and color of the logo. Let's start by looking at everything around and said to himself, "if it is me, I will ..." before a certain product designs.
Qualifications and background knowledge

When going for a job, often employers will favor a more qualified candidate. Further study in environmental education and professional training will help you gain a solid knowledge. However, note that to dig learning is also very important for this area, especially for various software: Adobe Photoshop, Adobe Illustrator, Quark Express or Adobe InDesign, Flash ... The knowledge typography (typography) is also essential because it is one of the determinants of an effective design. You can consult other sources of information about the graphic design here.
Skills "Trade"
This is especially important to help you find contract work "lucrative". In case you are working independently as a freelance graphic designer, marketing skills, sales and management is extremely important because you will be responsible for bring "trick mung" for yourself and no one else.
Communications network
In modern times, the expansion of global connectivity is very useful for graphic design work. Participation in the group of international colleagues on separate media or network Facebook will help you update the latest information as well as have the opportunity to see their creations or "exhibition" of works her abroad.
Working group

Teamwork does not necessarily mean you have to work with everything, the person you love. It is important that you fulfill the responsibilities and respect the rules of the group to make the results work best.
Time management
Customers always want to get the required products on time. So you must know how to manage their time budget to ensure on schedule. Sometimes the order of priority of work also depends on the workload, but correct time factor should be considered first for prestige and professionalism.
There are many lessons in and out of other professionals to practice if you really want to be a true design professional.