Joined

Sep 10, 2012
Messages

101
Points

0
Online community is a huge market that you can not ignore, especially when you are involved in online business. This market there are millions of potential customers, but how to reach them certainly is the question that so many businesses want to find answers for themselves.
Choose SEO or Google Adwords (PPC)
Web page is an online office that businesses created to provide information on products and services they provide to clients. But how do customers know your site, with appropriate cost effective long term? Marketing investment site there are two commonly used is Do SEO and Google Adwords advertising forms.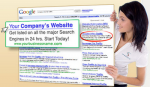 SEO stands for Search Engine Optimization is often called search engine optimization. Several recent studies indicate that 60% -70% of Internet users use search engine Google to search and locate the website, any information they want.
For SEO you do not need to pay for the click and a long process. It may take months, 6 months minimum before desired results actually achieved, but once the goal is completed, you will certainly gain a sustainable and stable profits.
2. Google Ads
As a popular form of PPC stands for Pay Per Click. This is a way to advertise on search engines. Donor list that you will see when you perform any search. Whenever visitors click on your ad, you will lose a certain cost corresponding to that click, the higher the bid per click you as listed in the high position, so so will gain a large amount of visitors.
With this type of advertising, you can still basically control their advertising campaigns. Also, you can manage the audience you want to reach and advertising costs completely under control, make sure not to exceed your budget in mind. Most of the service providers pay-per-click advertising will allow you to choose your target market through the theme, business sector or geographic region.
When you optimize your PPC tactics, make sure you get the benefits would be:
PPC advertising you to all the netizens. And the establishment of advertising is also relatively easy. At first glance, PPC advertising may seem expensive. You are concerned may have to pay a very high cost that profits are not as expected. However, you can rest assured because the PPC networks have mechanisms to protect you against damage from artificially click.
You can also set the advertising budget for a certain period of time. At the time of budget you set is used up, your ad will not appear until the next time you want it to appear again.
You can also adjust the business change in response to changes in demand and market trends. To choose strategies that are appropriate for you, think about your goals and your existing resources. You should use PPC for short-term goals and use SEO for long-term goals.