Joined

Jun 6, 2012
Messages

1,845
Points

0
On the Internet, there are a lot of free services that allow you to share files with people. Any documents, articles, PDF materials, audios or videos that you like to share with others on the web, you can simply upload them on the file sharing websites. People who found your files can then download and open them. But make sure you arent uploading any copyrighted materials unless the original owners of the materials give you permission to do that.
Some of the files sharing websites arent just offering free file sharing service but also they are rewarding the Internet users who upload files on their site. Users who upload files will make money every time when their file is downloaded by visitors. Most file sharing websites pay between $1and $3 for every thousand download. So if you are uploading some interesting files and promoting them on the Internet, then you could potentially get thousands of downloads and earn some money each month.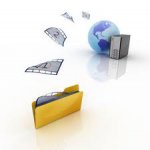 However, some people think that it is not worth to do it because the pay of few dollars per thousand download is just too low. Getting thousands of file download constantly takes some hard work on marketing. You need to post your file download links everywhere like forums, blogs, message board and social media sites (Facebook, Twitter, etc) so that a lot of people know about your files and download them. This could take hours of time daily and the potential pay is just $10 to $30 monthly. It's simply not worth it.
But, there is one special file sharing site that really pays much higher than most of the usual sites. ItSharecash Make Money by Sharing Files Online is ShareCash.org. This site is offering $0.20 to $0.60 per download which means $200 to $600 per thousand download. Not bad huh the pay!
So if you have some interesting files you like to share, go ahead and upload it on ShareCash.org. Then try posting your file sharing links on relevant forums and discussion boards and also sharing it with your online friends on Facebooks and other social networking platforms. You might getting good amount of downloads of your file and earn a nice extra income from your effort.
Getting started on ShareCash.org is simple. All that you need to do is register an account with ShareCash.org and then you can start uploading your files on ShareCash.org, invite people to download them and start earning.
Is ShareCash.org really paying?
There have been some comments from Internet users stating that the offer of ShareCash.org is just sound too good to be true and ShareCash will not pay. Is that true? Well, there are quite a number of people actually disagree with it. Some users said that they already got paid a few times with payment proof posted.
So far, those who have used ShareCash.org say that they have got paid and there are no real complaints on this program yet. So, I conclude that ShareCash.org is a legit program that pays. You may read about users' experience and comments on ShareCash.org at:
ShareCash.org itself also has a forum set up at
http://forums.sharecash.org
. You should check out this forum as well to learn more about making money with ShareCash.